Vacuum Furnace Department
Our vacuum furnace department is computer controlled and offers the latest state of the art equipment. They are certified monthly and comply with Military and Commercial standards. The following types of materials are processed: high speed tool steels, stainless steels, carbon steels, and exotic alloys.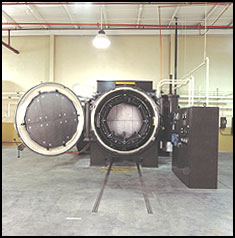 Process Capabilities
* Vacuum brazing (copper, nickel, silver and special blended alloys)
* Vacuum hardening
* Vacuum annealing
* Vacuum tempering
* Vacuum precipitation hardening
* Vacuum high speed hardening
* Vacuum stress relieve
* Vacuum hydrogen annealing
Furnace Size and Capabilities:
(Note; all dimensions are measured in inches)
* Processing area: 36" wide X 48" long X 36" high
* Maximum vacuum level: 10-4 Torr
* Temperature range 0-2400 F
Additional Services:
* 24 hour turnaround available
* Metallurgical staff consulting
* Military certification
* Certified control charts (times and temperatures)
Contact us for a free quotation.