Continuous Rotary Furnaces and Mesh Belts Washers Equipment

Our automated continuous rotary lines are designed for high volume production processing of fasteners and stampings. Continuous processing offers high quality results, while maintaining low process variations on a wide range of products.

Process Capabilities:
* Carbonitride
* Case Harden
* Carbon restoration
* Through harden

Furnace Sizes and Capabilities:
(Note: all dimensions are measured in inches)
* (8) 36" wide 1000lbs Continuous Rotary system with WHIRL-A-AWAY quench systems

Process Control
* Infared gas control atmosphere
* Computer process control
* Temperature and atmosphere control equipment
Our continuous lines are equipped with auomated loading systems (ALS). This system monitors the loading process to reduce the risk of damage to threads or other critical dimensions. We are committed to providing the highest quality heat treatment services available to our customers.

Quench Capabilities:
* Oil
* Water/Polymer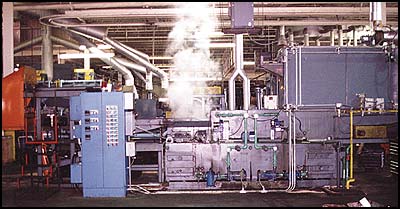 Continuous mesh belt washer and dryer
Your choice will become clear once you try our continuous belt washer and dryer system. Pre-washing of your fastners or stampings prior to heat treatment, increases the finish quality after heat treatment. This operation will improve plating quality and reduce costly time consuming pre-cleaning operations at your platers. We are committed to our customers' need for quality.

Contact us for a free quotation.